3 Days Seoul Budget Travel Itinerary
Seoul has been arguably gaining so much popularity among foreigners, especially young people in current days (thanks to Korean drama and K-Pop culture). As one of the most visited destinations in Asia, travelling solo in the capital city of South Korea is not hard at all. Public transport are available to connect the city's popular destinations.
In order to access transits information and navigation, you need to download Naver and Subway app, because for some reasons,
Google Maps can't be used in Republic of Korea.
Jump link:
Where to Stay – Day 1– Day 2 – Day 3 – Cost
However, with no-one else to share costs with, travelling solo can become a more expensive endeavor. But don't worry, many travel bloggers have been providing you some useful tips and trick. Just follow their experience and you will be able to travel solo with no problem.
Where to Stay
Start: 9:00 am from 24guesthouse near Hoegi회기역Station (only 100m from the station!)
Price: KRW 3500/day
Since the room I booked is originally for 2 guests (I got queenbed all for myself yeay!), so if you are travelling with friend or partner, the cost can be shared equally (much cheaper).
Link to book the 24guesthouse.
If you want to avoid crowd of tourists but still want a centrally located place to stay (easy-access by public transportation), Hoegi is the place. Located strategically in the middle of two famous university in Seoul, Hoegi becomes one of area you will easily find budget hotels, restaurants and convenient stores. On the first day, I have a free breakfast from the hotel, then I grab my favorite beverage from Gong Cha before going to Hoegi Station.
3 Days Seoul Itinerary
Day 1
1. Dongdaemun
9.00 am
First destination is Dongdaemun. Dongdaemun is actually the location of shopping district filled with many high-rise shopping malls. Some are actually wholesale malls and they are quite strict. (This place reminds me of Pasar Minggu district in Jakarta, Indonesia)
Here, I had my first ful meal in South Korea. I had a grilled mackerel with of course kimchi and other Korean veggie dishes. It is quite big portion compared with what I used to have in Japan.
Price:
grilled mackarels : KRW 8000
tofu stew : KRW 4000/shared by 2 (me and my friend)
kimchi+veggies+rice : free
2. Insadong

12.00am
Insadong is a popular neighborhood in the heart of Seoul that is often visited by locals and tourists wanting to experience traditional culture of Korea. Streets and narrow back alleys are lined with art galleries, wooden tea houses, restaurants, cafes, and small shops selling arts and crafts.
If you are looking for some shop alleys with Korean alphabet which is still written on the shop's board, Insadong is the place you are looking for.
Access:
From Dongdaemun station, go to Anguk Station which is a quite big station with many transits available.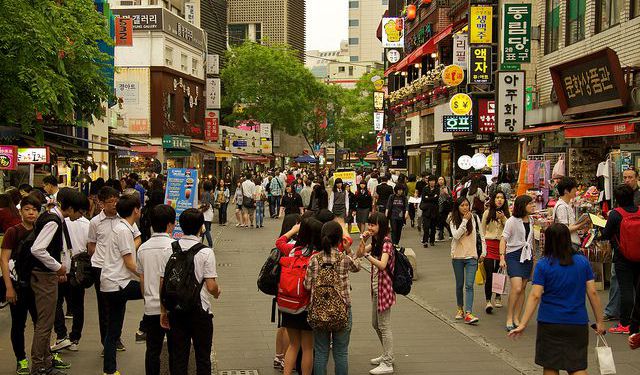 3. Bukchon Hanok Village
15.00 pm
At the first glance, I had no idea what is so special about this place. End up this place is one of instagram-worthy site which is actually home of hundreds traditional Korean village. Remeber that the alley contains of many slopes, so in my opinion it's not quite suitable for old people.
4. Namsan Tower (Sunset View)
18.00 pm
Mentioned as the symbol of the city, Namsan Tower is one of the landmark you can't miss on your itinerary. Cable car is available to take you up to the hill, where you can observe the landscape of the city from above. This place also becomes most visit spot for couples. It is arguably that the most attraction is the locks placed all over Namsan Tower. You can buy padlocks or keychains in the gift shop. But as for myself personally, I didn't do that because why should I? I was there as solo traveler anyway. Hahaha, just kidding.  It is little bit expensive though and you gotta place it on the wall next to N Seoul Tower, then you will just leave it. So, yea come on~
Access:
Cable car Adult return ticket: KRW 9500
(Optional but for me it's the best choice)
Bus from Bukchon Hanok Vilage: KRW 2350
(Subway Route: Anguk-Chungmuro → Bus Route: Chungmuro-Namsan Tower)
5. Myeong-dong (Night)
20.00 pm (We are starving, but it is good because we're gonna eat thing with all-you-can-eat rice included #opportunist)
After enjoying panoramic view of the city from Namsan Tower, take bus to Myeong-dong shopping district to get some good foods for dinner. There are also so many Korean street foods that will make you drool here. The street foods are little bit pricey here compared to those they have in other less touristy places.
If you are in travel budget, go directly for big portion of dinner!
Here's another Korean dishes for those on a tight budget yet craving for authentic Korean dishes. Chukumi set dinner!
Chukumi is grilled Tabugok (small octopus) seasoned with the hottest spice on earth you can imagine. Beside foods, Myeong-dong is a shopping paradise for all you need especially fashion store. But, as a budget traveler I don't recommend you to do shopping here because  they rarely have sales or discount. Keep in mind that Myeongdong is one of the most touristic spot in Seoul, so almost everything they have it here is slightly more expensive than in other places. I suggest you to go to Factory Outlet (my love) or underground market (included in day 3 ) if you want to get a great deals of great stuff.
Price:
Sharing plate of huge portion of chukumi (KRW 28000/3 persons), so one person would be around KRW 9300.
Day 1 destinations

Day 2
1. Korean Tourist Information Center
9.00am
This Tourist Information Centre is located in a large modern office building. Why tourist center? Korean tourist center in Seoul provides experience of Korea starting from its uprising entertainment industry up to advanced technology. If you are fan of G-Dragon from Bigbang, PSY, or some other South Korean entertainers, you will have a chance to meet and take a photo with them virtually.
Main Facilities
Tourist Information Desk
Medical Tourism Information Center
Muslim Prayer Room
VR (Virual Reality) Experience Zone
PyeongChang Olympics Promotion Zone
Hallyu Experience (K-STAR)
Travel Services (Sale of travel package, airtickets, train tickets)
Travel Cafe
etc.
2. Cheonggyeochon Stream
11.00am
It is a well-known beautiful & yes "very long" stream going through the city in the east-west direction from slightly under the ground level, the area near this park is like an eastern section of the stream just about a 5-to-10-minute walk from the big intersection .
Easily accessed from Korea Information Tourist Center by a few walk. Cheonggyecheon Stream passes close to Deoksugung Palace, Seoul Plaza, the Sejong Center, Insa-dong Street, Changdeokgung Palace, and Changgyeonggung Palace, allowing visitors to easily visit major tourist sites after a leisure stroll along the stream
Walk straight until the very end of the stream, you fill arrive in Gyeongbokgung Palace.
3. Gyeongbokgung Palace
12.00pm
The palace is one of the attractions you can't miss, if you ever travel to Seoul.
Gyeongbokgung Palace is the first royal palace that was built during the 500-year Joseon Dynasty. It is the largest of the 5 grand palaces in Seoul.
From the gate, if you get the right timing, you can see the little ceremony of guard changing.
After passing the gate, prepare your energy to walked around the palace. This place is very huge, you can spend time here to walk and appreciate the cultural heritage. You also can visit the blue house (just in front the gate) and the museum (free) around there.
You can dress from head to toe in traditional Korean clothing, the Hanbok, as even hair accessories and purses are available at the shop near this palace. It is pretty cool experience but since I  visited this place on summer and it was super humid and hot, so I decided not to dress in handbok.

Access:
Take Exit 5 of Gyeongbokgung Station on the Line 3 Subway. Upon exit, National Palace Museum is on your left while Gyeongbokgung Palace is on your right.
Entrance fee:
Adult KRW 3000, Children KRW 1500
4. Dongdaemun City and Park (Shopping Arcade)
15.00 am
Dongdaemun Shopping Complex is one of Korea's most well-known markets. It was founded in December 1970 as the largest of its kind in Asia and has maintained that status for the last 40 years. Browsing the plethora of shops, you can find fabric and clothing following all the latest global fashion trends. Dongdaemun Shopping Complex continues to build up its reputation as a hub of international design.
Structure Size
Total area: 16,529㎡ / Structural area: 79,339㎡
* Dongdaemun Shopping Complex: 3 buildings (7F)
* Dongdaemun Shopping Town: 1 building (5F)
Operating Hours
Weekdays: 08:00-19:00 Fabric / Garment subsidiary materials, accessories, marriage supplies & home interior
Sunday: 08:00-19:00. First and third Sunday only marriage supplies and home interior stores partially open.
(cr: visitkorea)
5. Shinchon (Food Paradise)
17.00 pm (Dinner Time)
Around Sinchon you can find lot of street food, bars, clubs, traditional restaurants, and arcades. It's perfect if you want to avoid foreigners, mostly locals in this area. Although a great selection things to do late at night, there tends to be a lot of South Korean's drinking beyond their limit to blow off work steam and consequently friends carrying each other home. Completely, safe, but not best environment for a romantic stroll nor to bring young kids. This place is more a place for searching food than shopping. Lots of good restaurants could be found in the area.
Access:
Sinchon Station (Seoul Subway Line #2)
Day 3
1. Yeongdeungpo Underground Mall
9.00am
Cheap underground shopping which pretty much like other typical Asian market. You may bargain or just find extra discounted goods here. Yeongdeungpo Underground Mall offers a variety of products marketed to different age groups from teenagers to seniors.
Access: Yeongdeungpo Station (Seoul Subway Line 1), Exit 5.
Operating Hours: 10:00-22:00

2. SM Town Coex Atrium
11.00 am
The Mecca of K-Pop! COEX MALL + SMTOWN COEX Coex Mall is a shopping Mecca for global brands in fanshion accessories, beauty lifestyle and others. Even you are not a K-Pop fan, it is still a must spot to visit on your itinerary when you are in the town. 
Access:
Take Line 2 (Army Green Color) head to Bangbae and get off at Samseong station (only 6 stations away and took 14 minutes) then take Exit 5 or 6. The ticket price is 1,550 won. After you exit thru Exit 5 or 6, you can see a big board of SMTOWN Coex Atrium right in front of you, it's easy to find.
★Operating Hours: Open all year around, 11:00-22:00
★Admission:
3F Studio entrance fee: 30,000 won (discounted rate of 20,000 won until January 31)
★ Theater : Hologram Musical: 77,000 won (30% discount until February 28)
★ Hologram Concert: 44,000 won (30% discount until February 28)
★ Address: 513, Yeongdongdae-ro, Gangnam-gu, Seoul
★ Website: www.smtownland.com (Korean only)
Inquiries & Reservation:
2F Store: +82-2-6002-5811 (Korean, English, Japanese, Chinese)
3F Studio: +82-2-6002-5820 (Korean, English, Japanese, Chinese)
4F Café: +82-2-6002-5838 (Korean, English, Japanese, Chinese)
5F Theater: +82-2-1644-0180 (Korean, English)
1330 Korea Travel Hotline: +82-2-1330 (Korean, English, Japanese, Chinese)
Cr: VisitKorea
3. Coex Mall Giant Library (
Starfield Library )
13.00 pm (Lunch Time)
"A Library inside a mall? really? and it is for free? Who does that?" Apparently, COEX Mall does that.
Catering to K-Pop fever, SMTOWN coex artium offers avid fans the fascinated giant library. Located in Gangnam Seoul, COEX Mall is the largest underground shopping center in Asia. It is newly opened for public at May 2017 (I visited Seoul at August 2017). It is definitely must visit place while you are in Seoul.
While you are here, grab some food in the restaurant corner. The food varies from Korean up to Western cuisine.
4. Banpodaegyou Bridge
15.00pm
The fountain is programmed to play different shows during the day and night. During the day, the fountain shows a hundred different configurations meant to evoke waving willow branches and willow leaves. (cr: visit korea)
5. Hangang River Cruise
To end your trip in Seoul, try sailing along the beautiful Hangang River against a backdrop of Seoul's landmarks such as N Seoul Tower, The 63 Buiding, and many more! Price varies from USD 11.7-28.4. Click here for price details.
Cost
Traveling to South Korea is not so expensive generally.
Seoul is very tourist friendly and cheap in comparison to a lot of other countries I've been to.
Here is the rough average daily price for traveling in Seoul . For 3 nights, just multiple it by three!
So, where to go next?

Read also: 2 Days Prague Travel Itinerary
---
---